Facing writer's block with just a blank page and a blinking cursor? You're not alone. Introducing Lou's AI-powered blogging tools, designed to assist and inspire. Let's explore how these tools can invigorate your writing process.
Using Lou's 'Sections' Tool:
The Sections tool by Lou is designed to assist you in outlining your article. Think of it as your digital brainstorming buddy.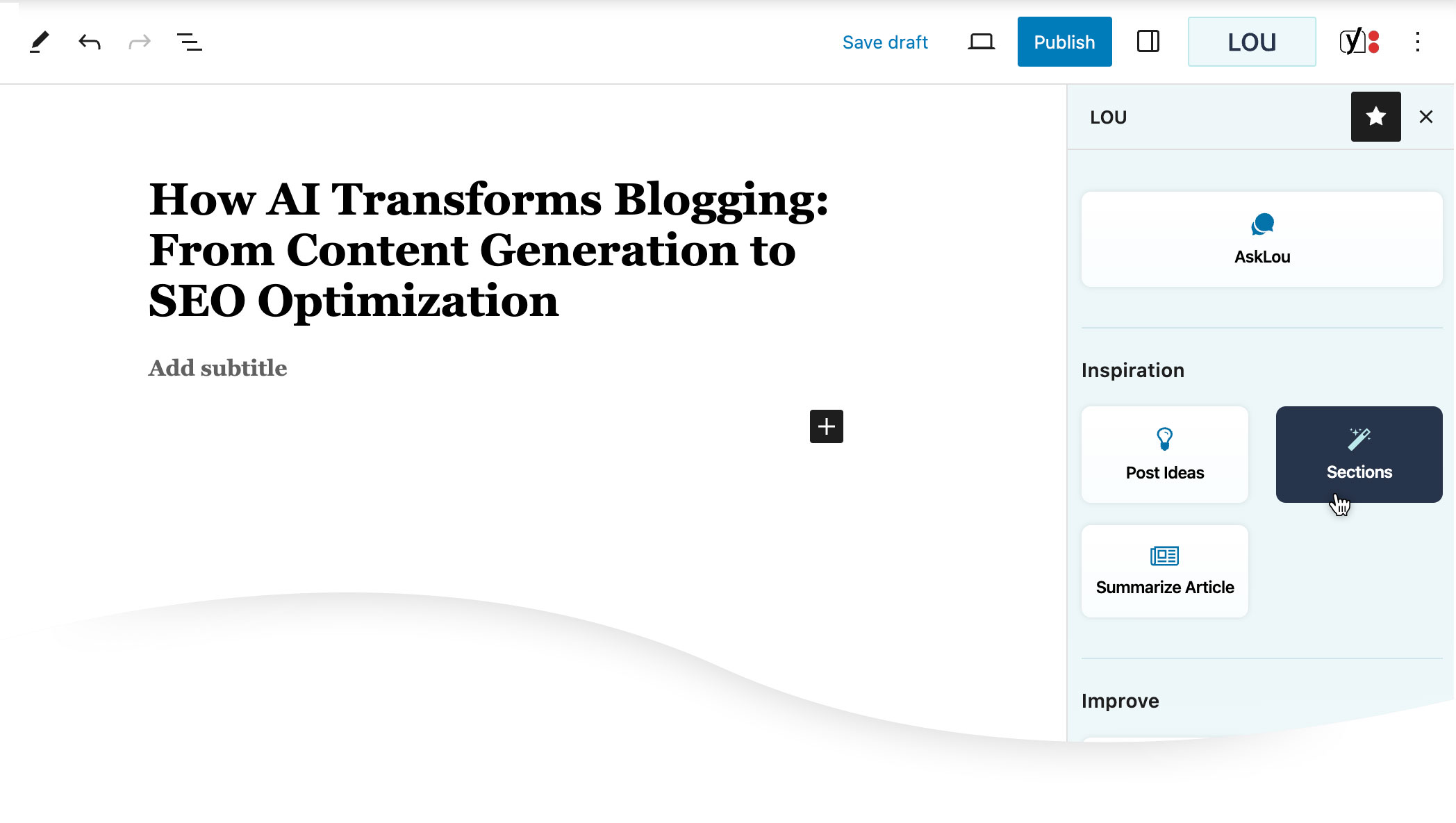 How to Use it:
Click on Lou at the top-right of the post editor.
Click on the Sections feature. A Sections block will appear in the post editor.
You'll see a prompt: "Give me subheadings on the following topic."
In the provided field, type in your main topic.
Voilà! Lou generates relevant subheadings, giving you a clear roadmap for your content.
Click 'Insert Headings' to add the subheadings to your post.
Using Lou's 'Post Ideas' Tool:
The Post Ideas feature is designed to provide users with potential blog post topics based on a provided phrase or subject. It serves as a brainstorming tool to inspire and help overcome writer's block.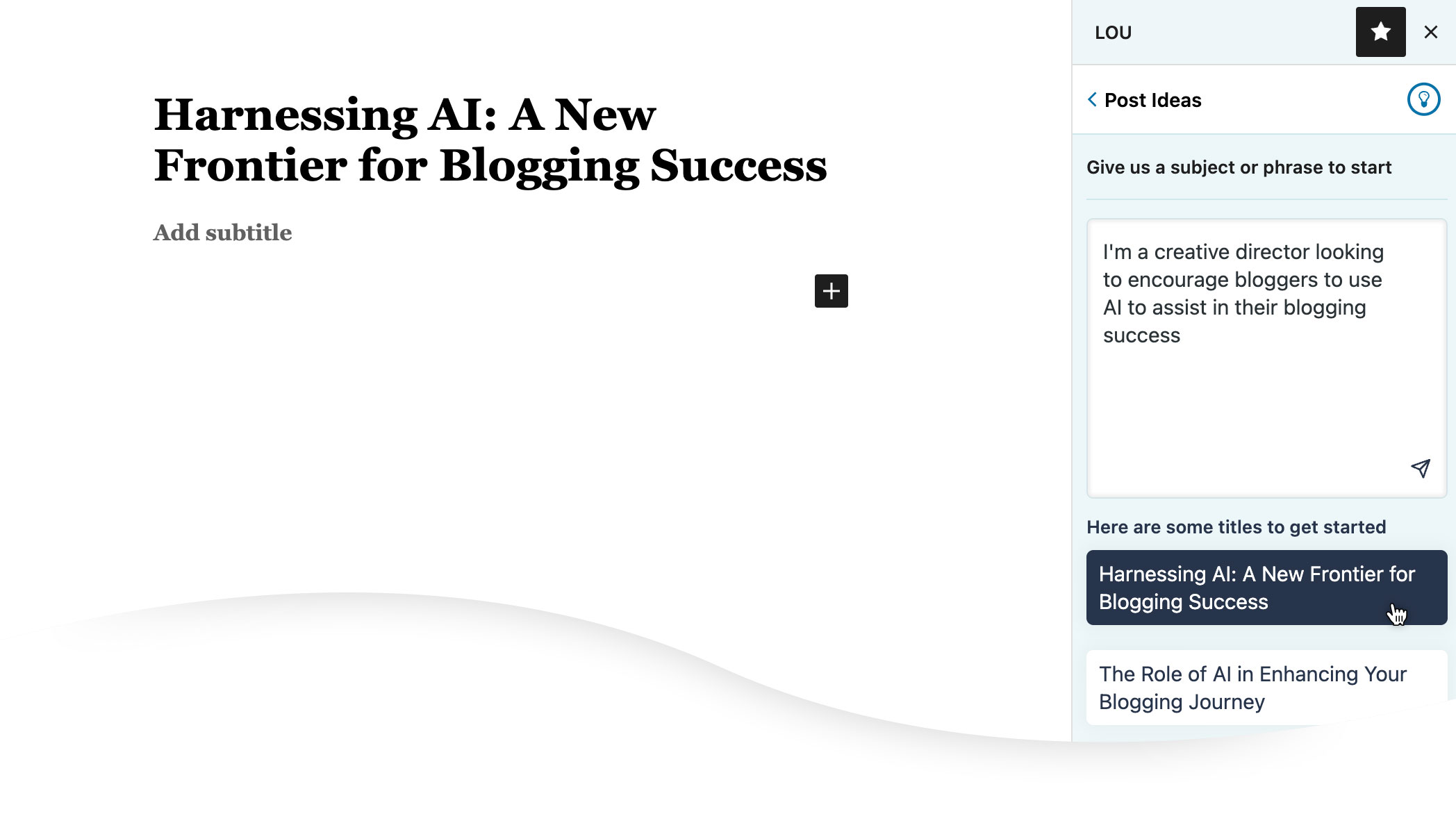 How to Use it:
Click on Lou at the top-right of the post editor.
Navigate to and click on the "Post Ideas" feature.
You'll encounter a prompt: "Give us a subject or phrase to start."
Enter your desired response in the provided field.
Within moments, Lou will display a list of potential blog topics tailored to your input.
Clicking on a listed item will add it into the title field.
Using Lou's 'Summarize Article' Tool:
The Summarize Article feature allows users to input the content of an article and receive a concise summary. It's perfect for distilling lengthy content into bite-sized takeaways.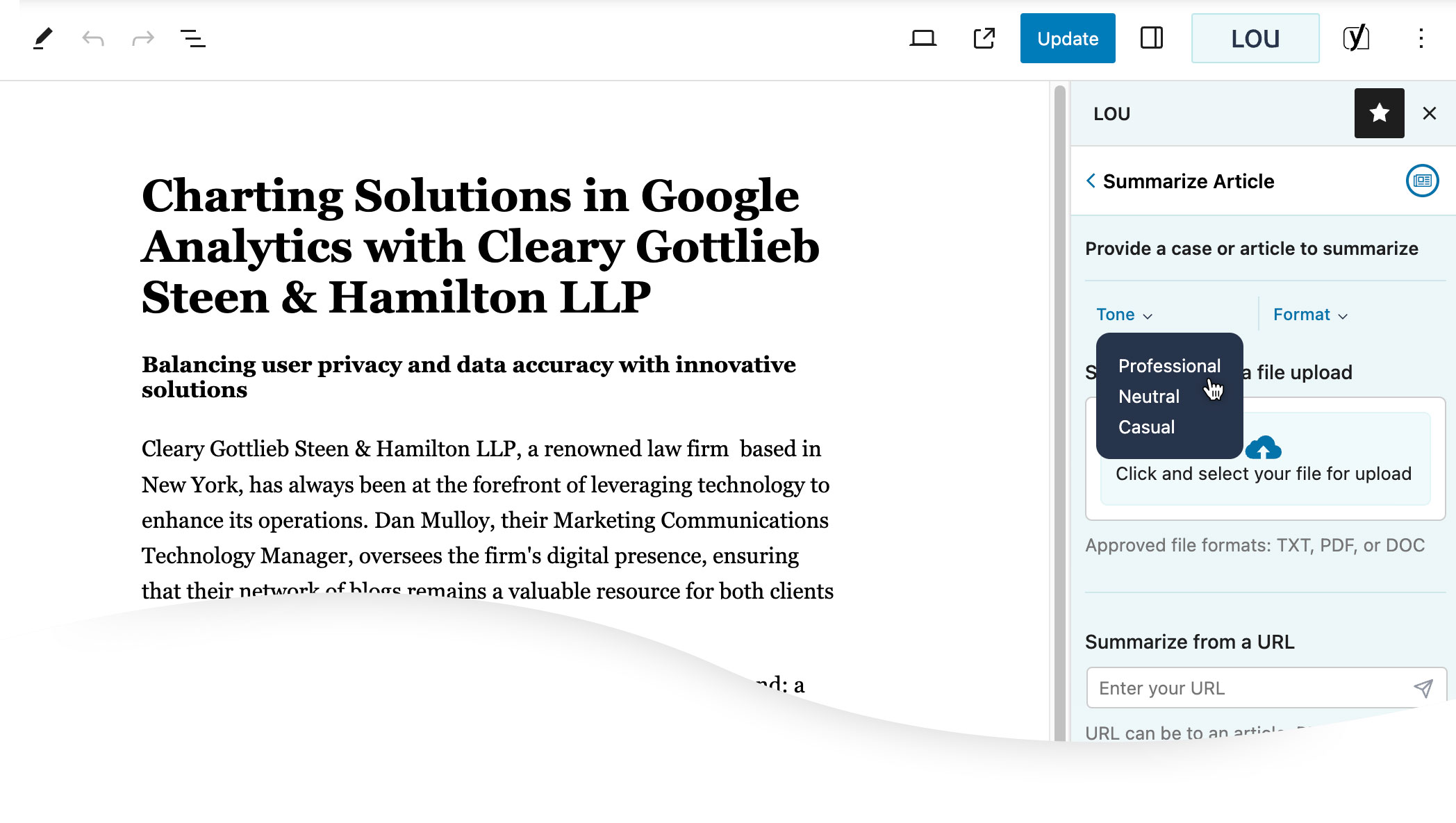 How to Use it:
Click on Lou at the top-right of the post editor.
Navigate to and click on the "Summarize an Article" feature. A module will appear for content input.
You'll be presented with options:

Summarize from a file upload
Summarize from a URL
Summarize from a Copy & Paste

Choose your preferred method and provide the article's content accordingly.
Lou will process the article and return with a succinct summary.
Click 'Insert' to add the distilled content to your post or 'Rephrase' to generate a new version of the summary.
Note

You can set the tone and format of Lou's summary by using the dropdown menus that appear at the top of the module.
Tips for Best Results
Remember to always review and potentially adjust the AI's output to ensure it aligns with your voice and content objectives!
Personal Touch: While Lou offers solid starting points, blending in your unique perspective and voice ensures your content resonates more with readers.
Refinement: After obtaining an output from Lou, consider changing the writing style or tone to make it more specific to your audience's needs and interests.
Tried it? Loved it? Or maybe not? Drop us feedback; we're all ears!