The "My Sites" dashboard menu lists your sites in alphabetical order.
This feature is available across all product plans and accessible by all users associated with multiple sites.


Why did the order of the list change?
The "My Sites" list was ordered by date of site creation and finding sites this way is not natural.
We've updated this feature to provide you with an intuitive, organized, and quick way to manage and access multiple sites.
Where is my list of sites located?
Users can access My Sites from two locations:
The top of the member dashboard between the LexBlog logo and your site title.

The left sidebar under

Dashboard > My Sites

.

How can I use the My Sites feature?
From the My Sites top navigation view you can perform (one or all) of the following tasks:
Visit the site

Visit the site dashboard

Go directly to the New Post editor for that site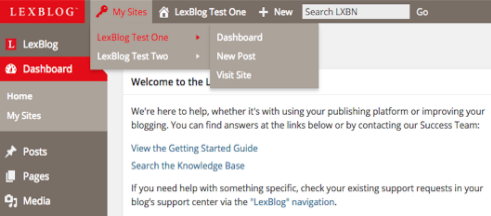 From the My Sites page users can visit the front of the site or its admin area Dashboard.