About users
Users can log in to your site and, depending on their assigned role, perform certain administrative tasks.
If your site features a post feed, you can assign posts to users. The user's profile information will then display in post bylines.
View all users on your site by clicking Users > All Users: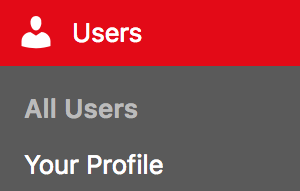 About user roles
A user's role determines what they are allowed to do once they log in to your site. For example, all users can edit their own profiles and change the information that displays publicly on your site. But only Administrators and Editors can edit another user's profile.
 User roles, listed from highest permissions to lowest, are:
Administrator
Editor
Author
Contributor
We list user roles and their permissions in the Support Center.
If a user will not log in to your site, we recommend setting their user role as Contributor. Limiting user roles is a good security practice.