When authoring post or pages, you enter text in the content editor. The LexBlog Platform editor functions similarly to other word processing programs.
Formatting content
The editor toolbar features several formatting tools:

Click the buttons to:
Bold, italicize, and strikethrough text
Add numbered (ordered) and bulleted (unordered) lists
Align text left, right, or center
Indent text
You can also insert:
Pasting text from another program
If you compose your text in another program such as Microsoft Word, click Paste as text before pasting content into the editor. This removes unintentional formatting that other programs can add to your content: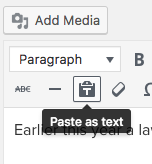 Assigning authors
Below the content editor, begin typing a username, display name, or email address to select a user as the author. Post authors will appear in the post byline. Page authors will not appear when viewing the published page.
See more: Adding author(s) to posts
Saving, previewing, and publishing your content
At any time you can save your content as a draft, preview it, or publish it. You can also schedule a post or page to publish at a future date or time. These options sit in the Publish box on the right hand side of the editor: