Available On: Blog Premier Plan or Enterprise Platform
Breaking News email campaigns are sent to subscribers within a few minutes after a post is published.
Add Breaking News campaigns to your site
Breaking News updates are available as an add-on for sites on Premiere plans. If you'd like to add Breaking News to your site, please submit a support request.
How Breaking News works
1. Create your blog post in the post editor, selecting the publish date, applicable post authors, images, etc. and save your finished post as a draft.
2. When you are ready to publish or schedule a post, click "Publish" or "Schedule". A modal will display showing three options to choose from: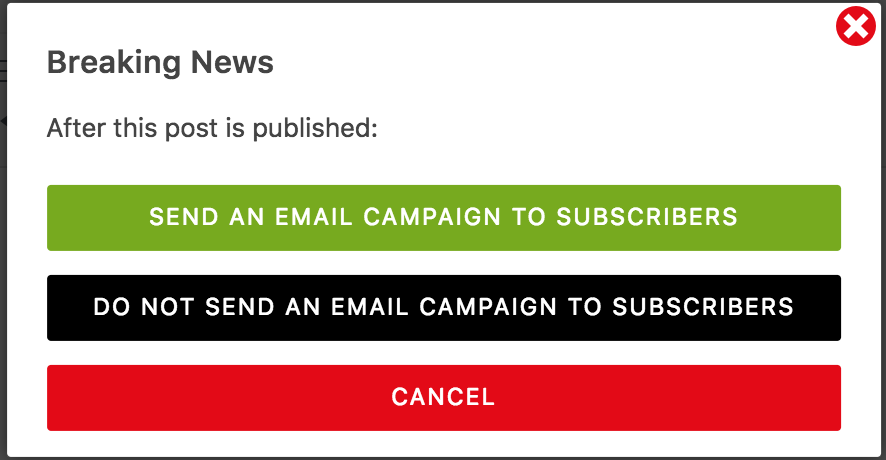 Send an email campaign to subscribers: When the post is published, subscribers will receive the campaign. Depending on any issues with MailChimp's servers, this should take no more than 10 minutes.
Do not send an email campaign to subscribers: Once published, subscribers will not receive a campaign. If you later want to send a campaign, set the post status to Draft, then change it back to Published and select the first option in the modal.
Cancel: The post will not publish nor will a campaign go out.
Preview a Breaking News campaign
You can send a preview of a campaign to multiple email addresses. First, in your Screen Options, check the box next to Email Preview. Then scroll down to the Email Preview box. Enter the email addresses, separated by a comma, then click Send Preview.
Viewing sent Breaking News campaigns
You can view sent Breaking News campaigns by clicking Email Notifications > Browse Campaigns.
Editing published posts
Unlike RSS-driven email campaigns, you can edit a published post without triggering a new campaign.
Troubleshooting
If a campaign doesn't send within 10 minutes of publication, unpublish the post and then publish it again. Check your sent campaigns to verify if the campaign went out. If not, open a support request.
For Customers Using the Block Editor:
If you're using the block editor, you will see the option to send out a breaking news email after the post is published. Once you publish the post, you will see an option to send an email right now. Click send, and the email will go through.