Your site layout is divided into three main sections: the Header, Main Content, and Footer. Depending on your starter design and plan, these sections vary greatly in their available widgets and functionality. Administrators on Professional*, Blog Plus, and Premiere sites can edit many of these elements through the Customizer.
See the image at the bottom of this article for a general overview of site layouts.
Header
Located at the top of your site, the Header contains elements like your firm logo, navigation menus, masthead image, title, and tagline.
Top and Bottom Stripe: These lay above or below the masthead. They typically contain elements like your firm logo, a navigation menu, search field, or Stay Connected social media links.
Masthead: Contains your site title, tagline, and masthead image.
Main Content
This section contains elements like your post content and sidebar.
Main Header Stripe and Main Footer: These lay across the width of your Content and Sidebar. They can contain widgets such as search or navigation menus.
Content: Displays your post content.
Interstitial: Displays below your first post. It may feature an email subscribe form, Stay Connected social media links, an About section, or other links.
Sidebar: Contains elements like site or firm descriptions, author profiles, Stay Connected social media links, email subscribe forms, blogroll, or archive links.
Footer
This section sits at the bottom of your site. It contains items like your firm's contact information, Stay Connected social media links, and a copyright notice.
Trailer Top Stripe: This lays across the width of the Trailer Contact Info and Trailer Extras. It can contain widgets such as navigation menus, a firm logo, or your site title.
Trailer Contact Info: This usually contains Stay Connected social media links, or your firm's address.
Trailer Extras: Can display a blogroll or information about your firm or the site.
Colophon: Contains the site's copyright notice and LexBlog's logo.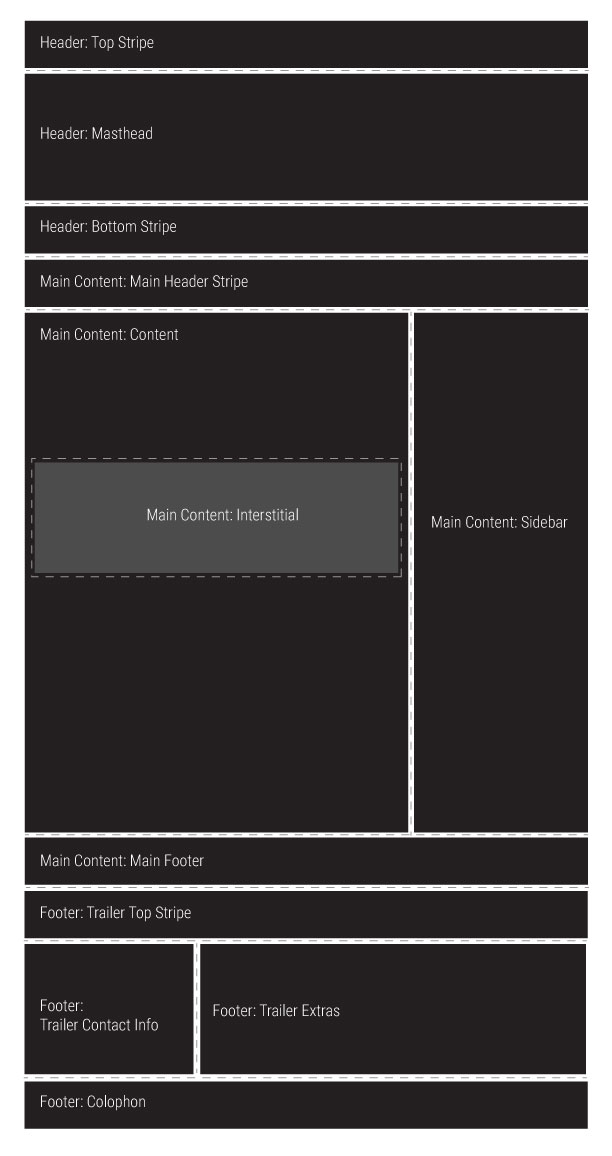 *Please note: we are no longer offering Professional Plan blogs to new clients. We are still providing full support to clients with existing Professional Plan blogs. For further questions about this, contact our Success Team.